Croydon Ducks - Garden Wildlife and Foxes 2021
Latest update: 15th May 2021
Photos from the garden in 2021 of foxes and birds.

Older Photos of Garden Wildlife - 2020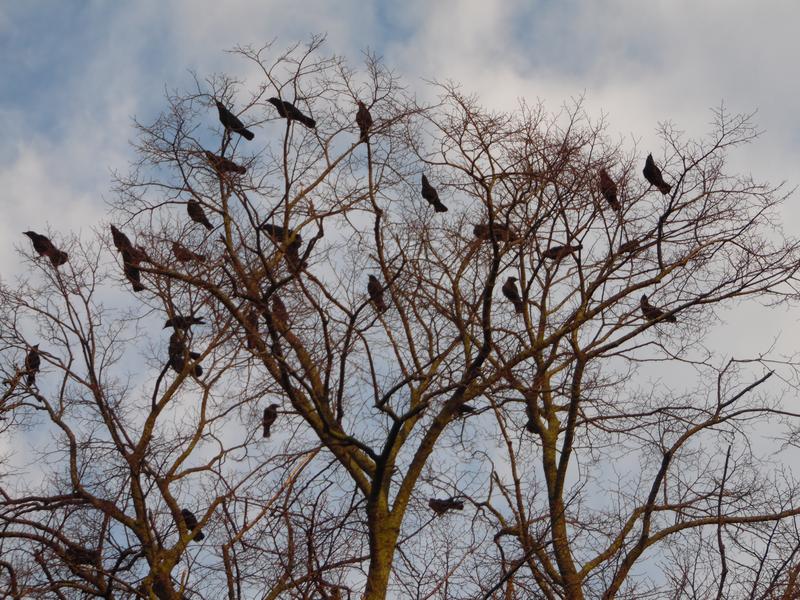 23rd February 2021, for the last 15 years or so, a pair of crows have lived in this tree in the next garden, and produced two or three
fledglings each year. There are other crows around, but they never come to my garden. This year, a large flock of crows has started
living here.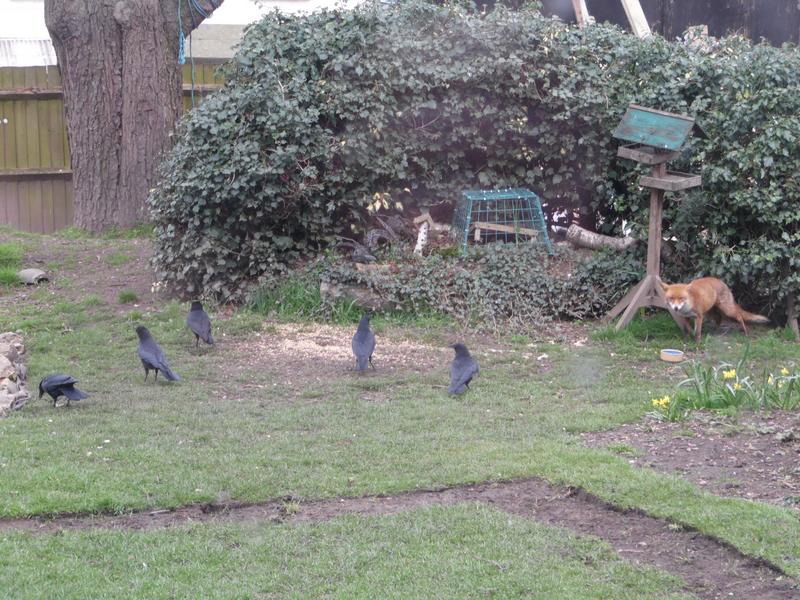 20th March 2021, the flock of crows are here all day, flying in and out of the garden, fighting the foxes for breadfast.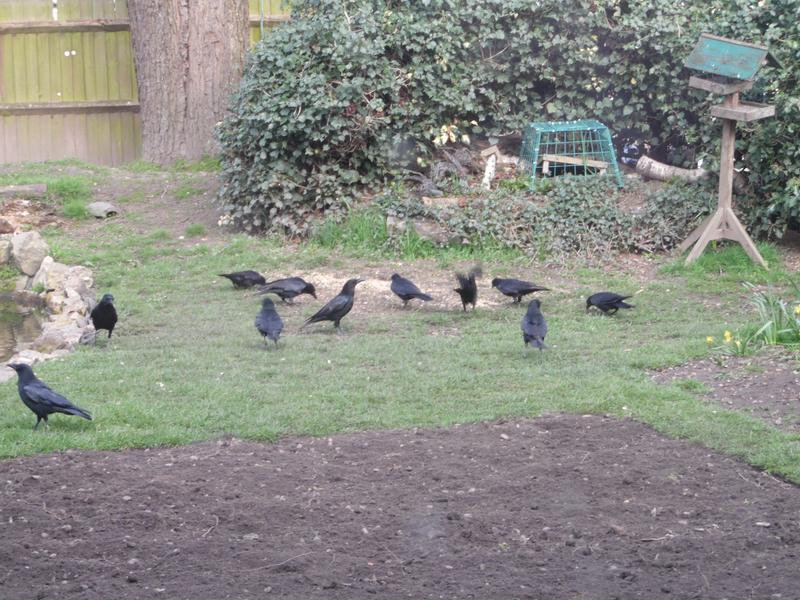 22nd March 2021, I can usually count 12 to 16 crows, but they never stay still for long and fly off with any food they find, so there may
be more. The old lawn has been taken up waiting for new turf to arrive.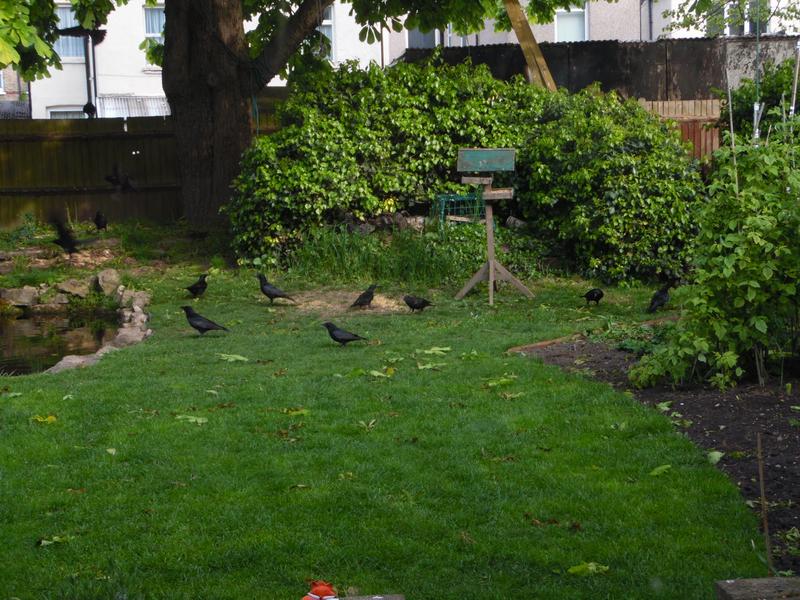 6th May 2021. new turf growing well, flock of crows still here daily.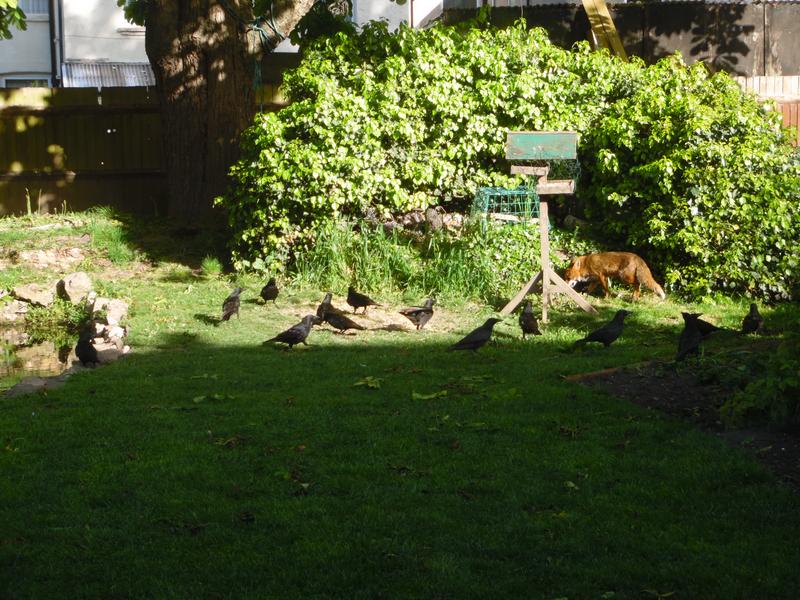 7th May 2021, each morning the crows try to get breakfast before the foxes it eat it all.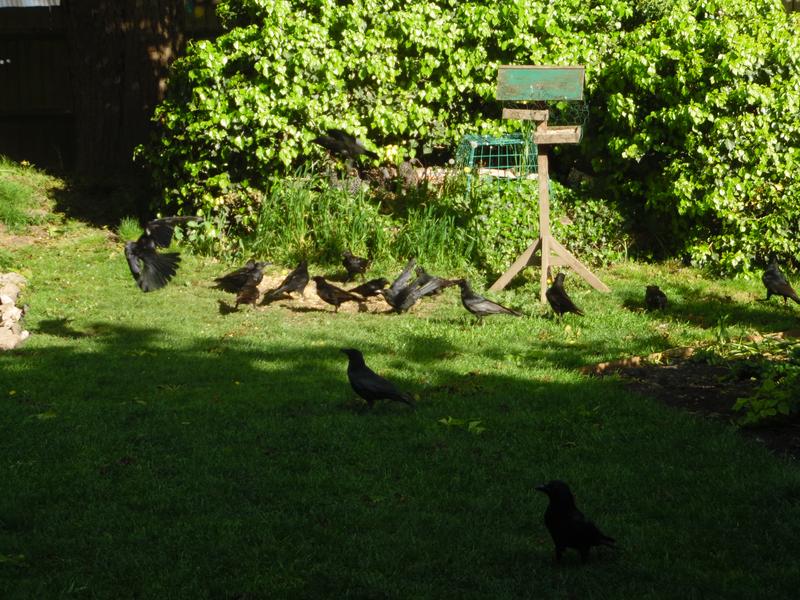 But there is usually enough food left for them. Very few parakeets in the garden this spring, they don't like the crows.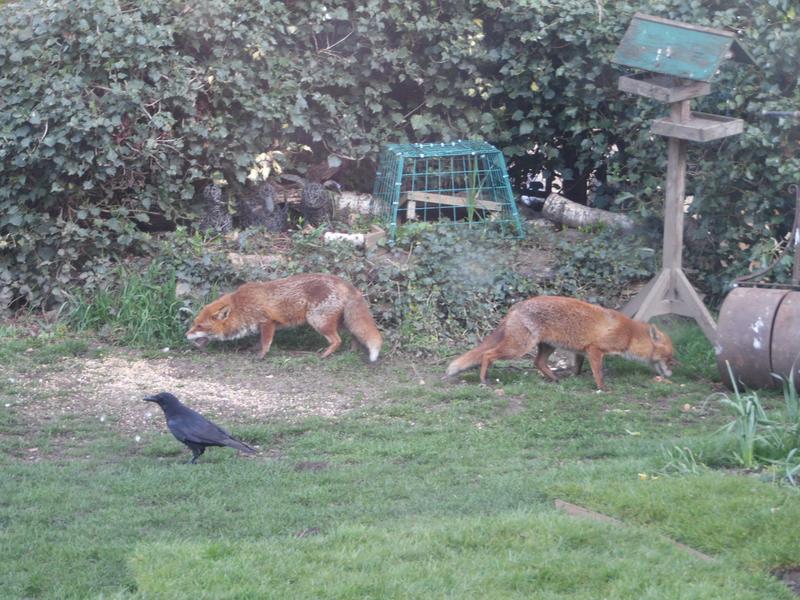 30th March 2021, usually have the same two foxes for breakfast, no idea how they are related to last year's foxes.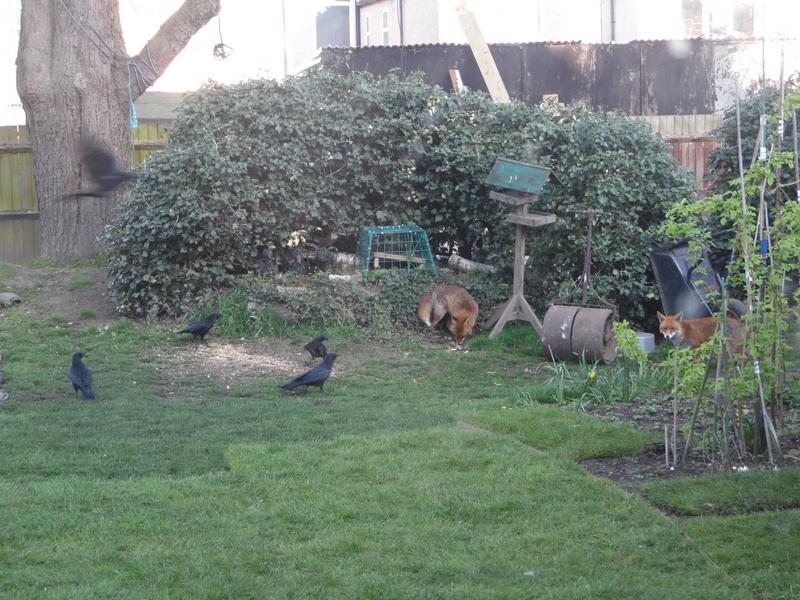 The flock of crows is wating for the foxes to finish. New turf partially laid.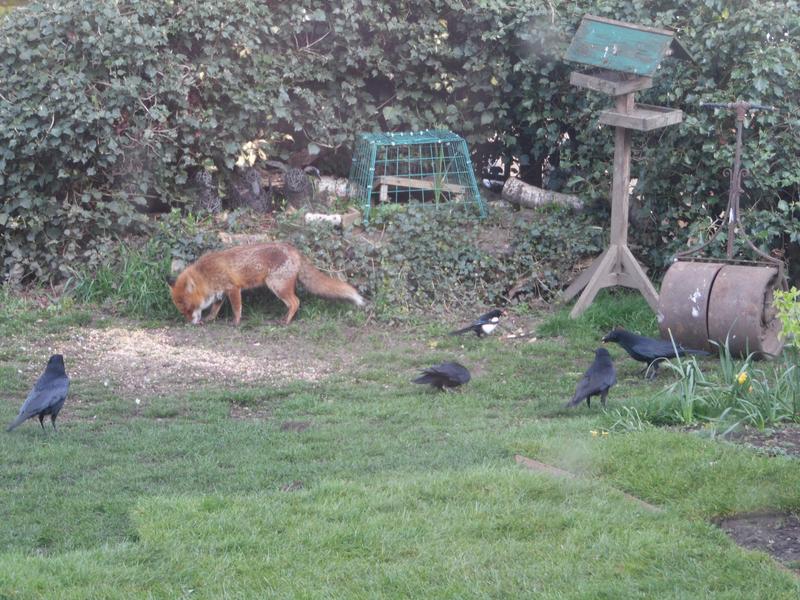 Some magpies often join the crows for breakfast, few collared doves, they were always nervous birds and like to eat alone.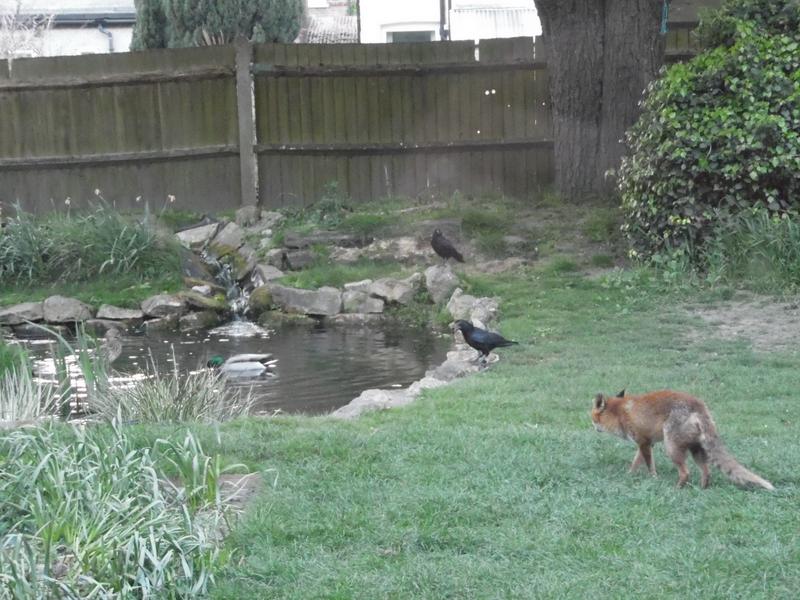 27th April 2021, 8pm, ducks, foxes and crows are all waiting for dinner.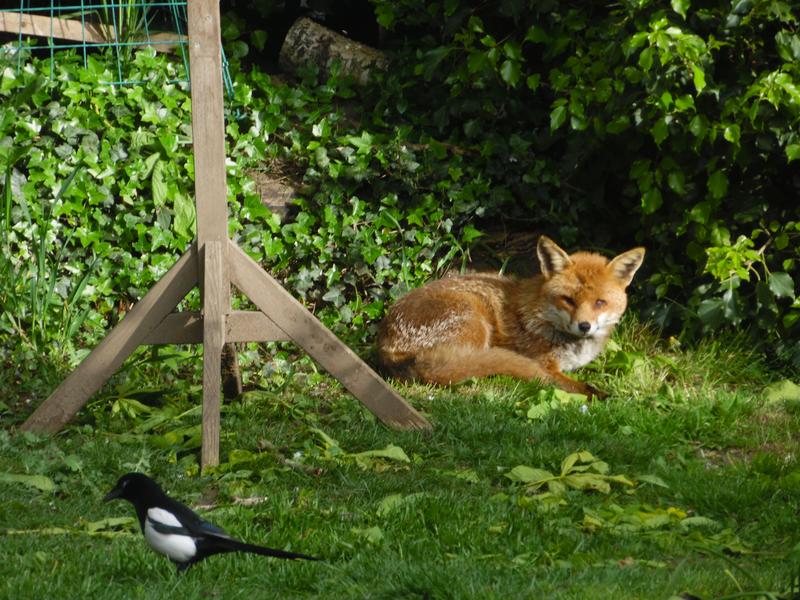 5th May 2021, fox waiting patiently for breakfast, no danger to the magpie.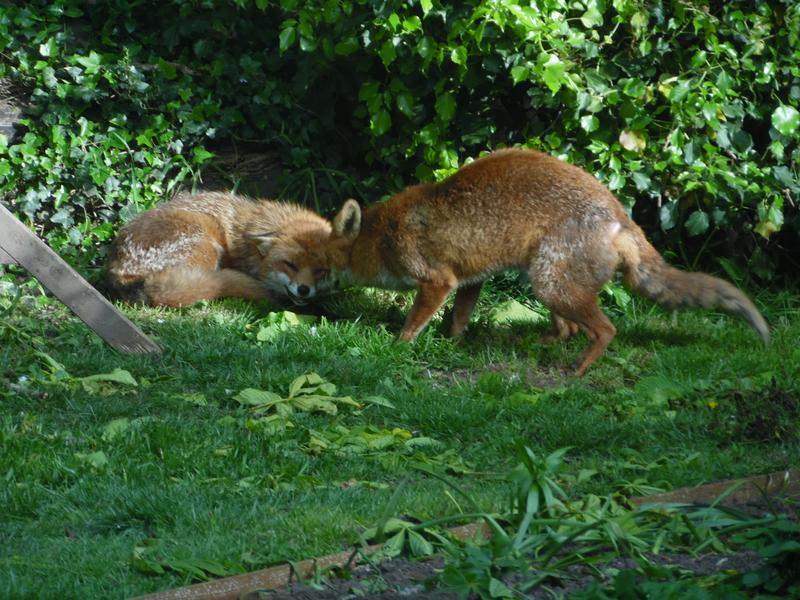 But a family member can not resist a quick lick.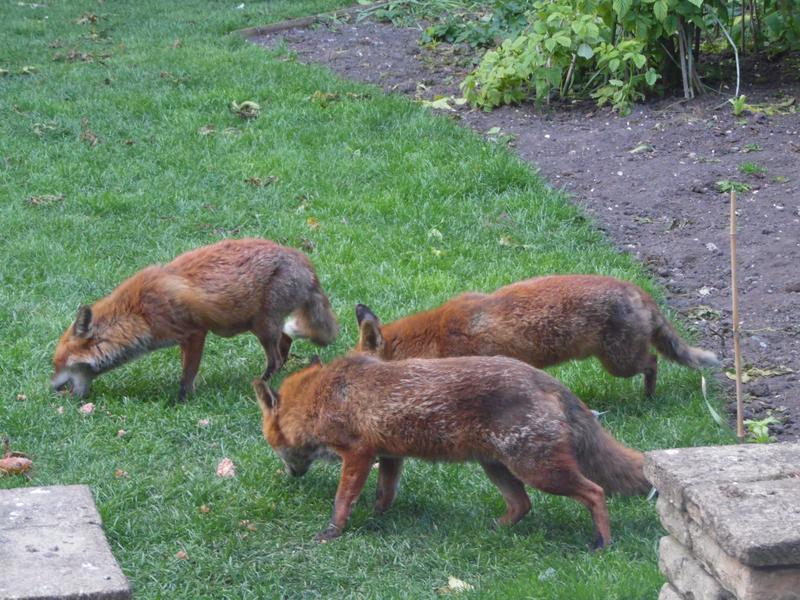 7th May 2021, it's much quieter in the garden this year than previously, dinner is often only one or two foxes, three is a rare event. But
there are fox cubs two garden away, and possibly others elsewhere under a shed, so expect to see more activity here as they venture
further from their den.
---
All photos and text on this web site is © Copyright 2011-2021 www.croydonducks.co.uk and may not be reproduced, copied or linked
without prior written permission. All rights reserved.